*Can be transformed to required voltage for a nominal fee. Single phase available thru a phase converter.
Costa SH3 1350 Wide Belt Sander
Max working width mm 1350
Working height (thickness) mm 3 - 160
Built-in electric and command panel
Electronic Programmer PCM B
Feeding speed (adjustable) 5 - 25 m/min
No. 1 Vacuum unit (estimated power Kw 5)
Pressure "shoes" to allow the process of short workpieces
Air blowers on the abrasive papers
Total power installed KW 57
No. 5 Working groups:
1°) Cross belt, pad with No. 42 sectors - (estimated power Kw 10/15)
2°) Longitudinal belt, rubber roller (drum) diam mm 250 - (estimated power Kw 10/15)
3°) Longitudinal belt, pad with No. 42 sectors - (estimated power of Inverter Kw 15)
4°) Brushing unit for the panels cleaning - (estimated power Kw 1,1)
5°) Rotary air-jet blowers for the panels cleaning
Taurus Craco Machinery Inc., sells pre-owned machinery on a first come, first served basis. Pre-owned machinery is not covered under any warranty or Government requirements. It is purchased "as-is - where-is, with all faults." Descriptions and specifications are to the best of our knowledge (some information is communicated via third party sources). It is strongly recommended that the machinery be inspected prior to purchasing to confirm the condition and specification. Additional charges such as crating and loading may apply.
Related
Products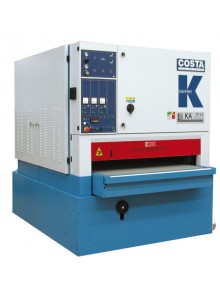 K SeriesThe K series calibrating+sanding machine family is employed in nearly all wood cycle applications including the panel industry, flooring, kitchens, and custom wood shops. Costa continues to invest in improvements across this product line.....
---
Application:

Condition:

Industry:
K series calibrating+sand
Category: Wide Belt