Tyler F36
Drawer front dovetailer, 6" min. and 40" max. drawer length, 4" min. width (drawer height), dovetail centerlines 5-3/4" min. to 36" max., min. 3/8" and max. 1-3/4" parth thinckness, 3-1/2" min. to 11-1/4" max. length of dovetail slot, (2) 2HP motors, high speed (21,600rpm) router heads with dovetail tooling, grooving head for drawer bottom, 2 spindle boring head for drawer hardware.
Taurus Craco Machinery Inc., sells pre-owned machinery on a first come, first served basis. Pre-owned machinery is not covered under any warranty or Government requirements. It is purchased "as-is - where-is, with all faults." Descriptions and specifications are to the best of our knowledge (some information is communicated via third party sources). It is strongly recommended that the machinery be inspected prior to purchasing to confirm the condition and specification. Additional charges such as crating and loading may apply.
Related
Products
Versatile, numerically controlled routing and drilling machines for the production of frame and sash joints in windows and doors, overhead glazing systems, curtain walls, sunrooms, conservatories as well as handrails, custom trim moulding and other l.....
---
Application:

Condition:

Industry:
Hoffmann PP Series
Category: Dovetail / Drawer MF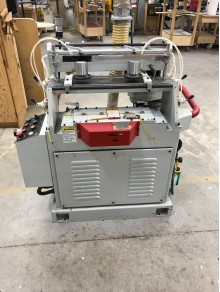 Features:Cut dovetailed tenons/mortises simultaneously for accurate jointingDovetail width and depth is adjustableContinuous tenoning motionAutomatic motion cycle provides efficient and economical operationHigh spindle speed 20,000 rpmSimple to opera.....
---
Application:

Condition:

Industry:
SYC 480 Dovetailer
Category: Dovetail Joining
Tags: T595CO