Inventory#:
SAW MARK DISTRESSING MACHINE
Boss Curved Line Saw Mark Distressing Machine
Distressed wood takes many forms. One of the most popular is saw mark texturing particularly on wood floors. This machine is specifically designed to automatically create curved sawtooth marks on wood. The result: random marking like they were done by hand.
Features:
Heavy-duty construction
Speed adjustment
Carbide cutter tool
Computer step by step motor control
Emergency stop and overload protection
Touch screen controls
Specifications:
Voltage: 440V, 50/60Hz 6.5KW power
Wood Thickness: 8mm-650mm
Width: 10mm-80mm
Speed: 0m – 12m./min
Capacity:
1500 m2 / day (8 hours) * 10.7639 = 16,145 sq.ft. / day (8 hours)
Related
Products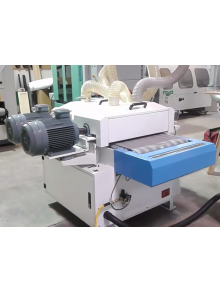 2 Head Wire Brush Machine.Especially suited for small and medium sized operations - Our goal is to provide an excellent priced machine yielding an incredible return on investment by creating faster output, reduced rework, and greater product con.....
---
Application:

Condition:

Industry:
LSK630RR Wire Brush Machi
Category: Texturizing Machines
One of the strongest market trends in flooring today is the look of hand-scraped wood floors. To get the random patterns consumers demand, flooring manufacturers have to do just that - scrape by hand. The introduction of the Random Scr.....
---
Application:

Condition:

Industry:
Automatic Hand Scraping &
Category: Texturizing Machines